Tel :

0086-150 6095 9606

Skype : aisha_niso
Skype : wendy_niso
Skype : ivy_niso
Skype : amy_niso
E-mail : admin@qzniso.com

Address :135th, Building 8, Fujing Garden, Huian,Quanzhou, Fujian,China
Elastic Hot Melt Adhesive
China

Hot Melt Glue 0629

Xiamen

Transparent yellow

1

15 days after receiving the deposit

TT/LC
Contact Now
Elastic Hot Melt Adhesive
Elastic Hot Melt Adhesive can be used for elastic, stretch or high stress bonding in baby diaper and adult incontinence Applications.
It provides superior bonding for constructing elasticized laminates that are typically composed of spandex, synthetic or natural rubber, and nonwoven substrates.
KEY FEATURES
• Exceptional Cost in Use Value, possible add on reduction of 10-15% while maintaining outstanding creep performance
• Unparalleled Elastic Strand Hold Performance, maintains strand hold over time
• Product Flexibility, compatible with a wide variety of elastic and nonwoven substrates
• Robust Processability, retaining high performance even in suboptimum application conditions
Typical physical properties
Composition: Synthetic Resins
Toxicity: None
Gardener Color: Light yellow
pH n/a
Thermosel viscosity 23000 - 49000 cPs---- 275o F (135℃)
(Brookfield ASTM D3236) 10500 - 22000 cPs ----300o F (149℃)
5800 -- 12000 cPs ---- 325o F (163℃)
3500 - ---7300 cPs ---- 350o F (177℃)
Density 1 g/cc --- 77o F
Softening point 213o F (101℃)
(Herzog ASTM E28)
Suggested running temperature 300 - 350o F (149 - 177℃)
Rolling ball tack: ≧ 10#
Holding power: ≧24Hr.
180°peel strength to steel: > 15N/inch
Shelf Life: 1Year in dry and cool environment.
Any need,pls contact wendy, wendy@qzniso.com, skype:wendy_niso.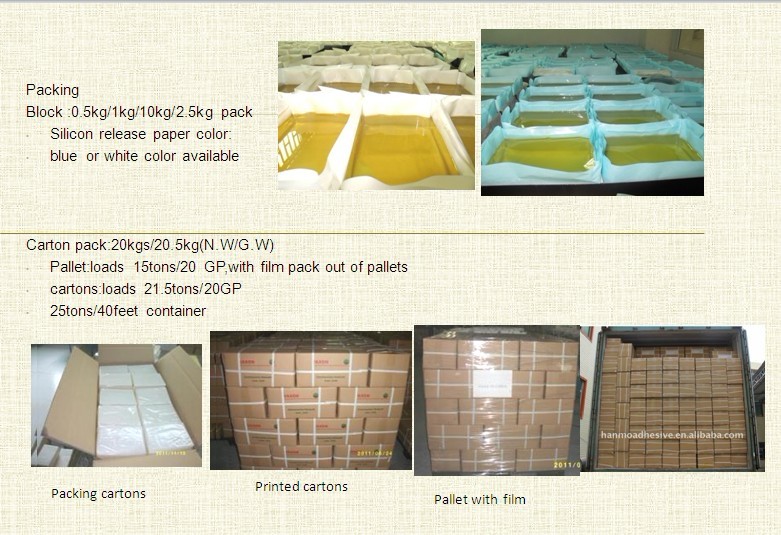 Related Tags : Hot Melt Adhesive China Hot Melt Glue Manufacturer Hot Melt Adhesive Glue
Previous :Baby Diaper Raw Material Hot Melt Glue
Next :Fuller hot melt glue 1057 for baby diaper raw materials y(AH-028)